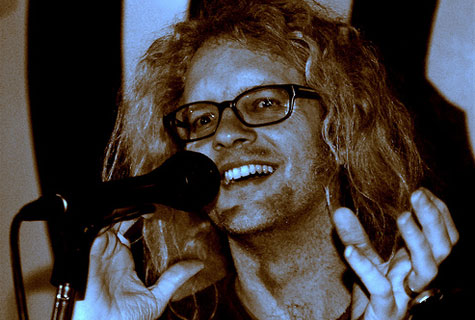 PoP10 - ANTON BARBEAU
'Cos it's easier than playing chess and cheaper than a bad gambling habit. And it's the only reason girls like me.
Brian Eno, Keith West, Julian Cope, Kenny Jones, Brian Jones, Tom T. Hall, the Rutles, Gary Numan, Meredith Monk, Prefab Sprout and the Bevis Frond.
My idea of success has shifted from grand ideas of major-label funding and billions of records sold to a more pragmatic vision of getting the records out any way possible and selling them one person at a time. Seeing an audience develop for my work is exciting and satisfying. I suppose I'll also mention the fact that in the last six months I've done shows with 4 of my favorite bands (The Loud Family, Solipsistics, The Negro Problem and The Bevis Frond). This feels like success, too.
Why should people buy your CDs?
'Cos I can't afford to buy them all myself! I dunno... I try to create records that are entertaining, interesting and hopefully challenging. They're fun AND uptight at the same time!
Lara Miyazaki, Dickie the Cat, the Beatles and everybody else.
What do you hope to achieve with this CD?
I want to become filthy rich. I want these songs to become coffee-table anthems. I want children born in the year 2000 to grow up knowing the words to "Please Sir I've Got A Wooden Leg". And I hope that the record pleases the people who need pleasing.
Why did the label release your CDs?
They told me it was a tax write-off, but I think they secretly liked the songs. Seriously though, my record seemed to fit naturally with the other stuff that frigidisk puts out (Solipsistics, Earle Mankey etc). A perfect match!
Banana throwers, fire-eaters, girls and boys and lots of invisible people.
What is your favorite album?
My parents' scratched copy of "Meet the Beatles".
I was born nearby so I already knew the way. Plus, I've got friends in high places with HEAVY contacts. They opened a few doors and windows. I walked, actually. Well, I walked from my van. I drove from home. I struggled hard all our lives to get by. I practiced night and day 'til my chops were hot. I worked my way through college, sometimes sleeping 20 hours a day. I dreamt of golden oranges. I followed the sun. I've always been here. Can I go now?